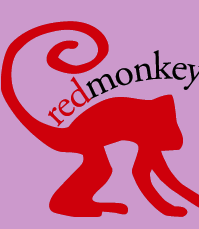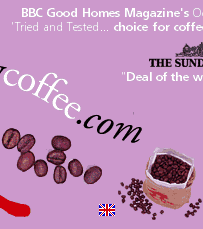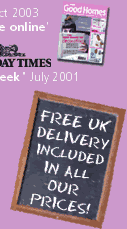 Click to enter our new site!!!...
" Red Monkey Coffee sellers of fine coffees to the UK, traditionally hand roasted arabica coffee beans & a range of espresso machines & accessories
all with free UK delivery (UK

only)

"


Card types we accept over our secure payment page are:




American Express . Visa . Mastercard . Eurocard . Visa Debit/Delta . Switch . Solo . Delta . JCB . Visa Electron

You can order & get advice over the phone - Call 0870 207 4831 (Standard National Call Rate)
All prices throughout the site include delivery (UK Only) and are inclusive of VAT at 17.5%.


www.monkeysanctuary.org

We have sponsored Rachel Hevesi doing the Great North Run in aid of

The Monkey Sanctuary Trust which she completed click to see photo.

Most coffees give you a lift. Some also restore pride and renew hope.
Fairtrade coffee available here.

---
e-mail:info@redmonkeycoffee.com. web:http://www.redmonkeycoffee.co.uk
address: Bache Farm, Westhope, Near Ludlow, Shropshire, SY7 9LG, UK

AOL users click here to read important information about using our site.
Internet Explorer 4.x recommended, requires 800 x 600 Monitor, Java Enabled Browser
~

Copyright © 2000 & 2001 ward'i'group.com. All rights reserved.
Terms | Privacy and Security Statement | Designed by Blueroom Designs UK

---
Visit fervency.com - online designer department store